END TO END TEST
Introduction
Amanda Server is routinely backed up as its own client.
End to end test page allows user to conduct a quick test that an Amanda server can be backed up as its own client.
The test creates a "test" backup set.
The test backup set contains a file on the local machine ( Amanda server) that is backed up to a local disk.
The test does a complete backup, restoration and compare of the restored file contents.
End to end Test Page Overview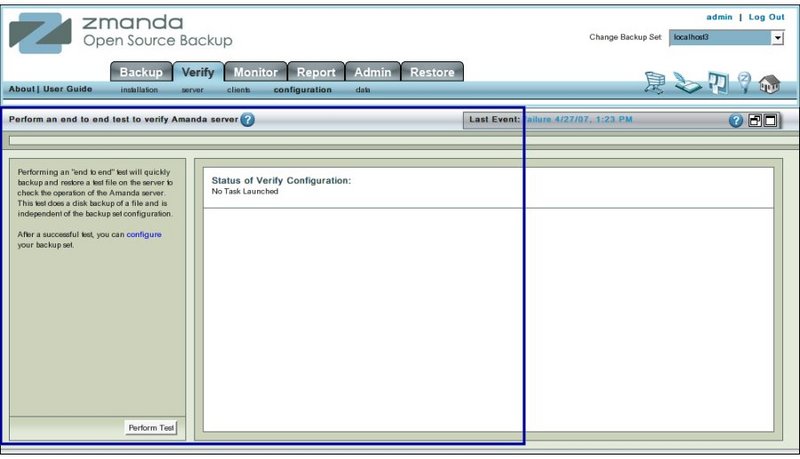 Like all other functional pages of ZMC, the End to end Test page has its main functionality in the center, while other common-to-most-pages functionalities are grouped at the top of the page.
Explanation of common functionalities enclosed in a light blue rectangle at top in Fig 1 can be found on Common Functionality page.
In the image above,the main functionality area is enclosed in the lower Navy Blue rectangle.
End to end Test Page Main Functionality
The main functionality of the End to end Test page is to allow users to check out that the Amanda server can be backed up as a client.
Run an End to end test whenever

when new Amanda server software is installed or software is upgraded
when the distribution/OS is upgraded.

Users need not run an End to end test whenever they make a new Backup Set configuration.
Procedure to run End to end Test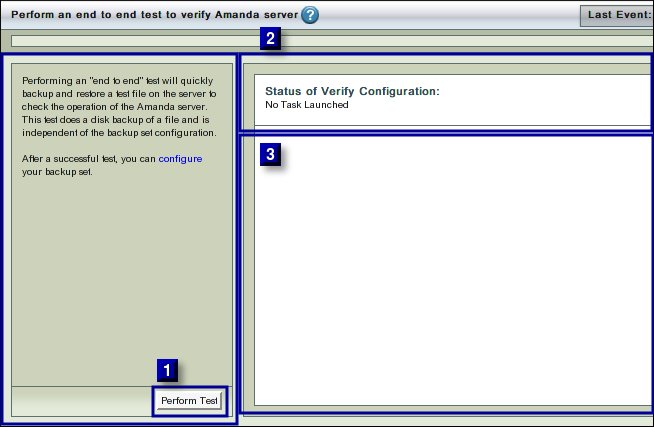 Click the "Perform Test" Button (labeled No 1 above).
The text in upper right hand rectangle (No 2 above) will change to indicate that the Configuration Verification process has started.

Further progress messages/ error messages will appear in Rectangle 3 above.
Success Message
Success has the following message: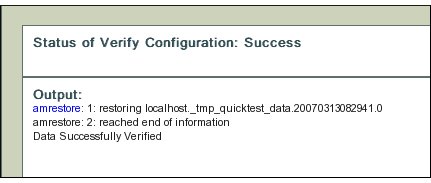 Tip:	
Success implies that it is technically feasible to backup data on Amanda Server while treating it as an Amanda Client.
Nothing is implied that this is an optimal overall way to organize user's  backup needs.

Clear Output
To clear old messages, click the Clear Output hyper link present at Upper Right Hand corner in Rectangle 2.
Clicking it will restore the page to a initial clean status from where the End to end test can be re-run.
Move to...
If Users have not configured a Backup Set, they should move to Backup What page.
Otherwise users should go to Verify Server page that is on the next tab.