The Zmanda Management Console and User Guide
The About page provides a short description of the Version Number of ZMC that is being run.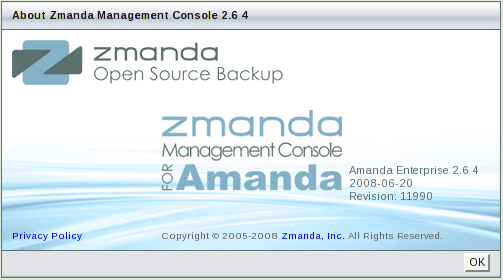 In the above figure, Version 2.6.4 of ZMC is being run (No. 1 above).
Additional Links
The About page has two additional links:
Privacy Policy link (No. 2 above): Displays the Privacy Policy page of Zmanda Inc.
Zmanda Inc. link,(No. 3 above): Jumps to the home page of Zmanda Inc.
USER GUIDE
Introduction
The User Guide icon is available on all pages of the Zmanda Management Console. It opens the Table of Contents of this manual.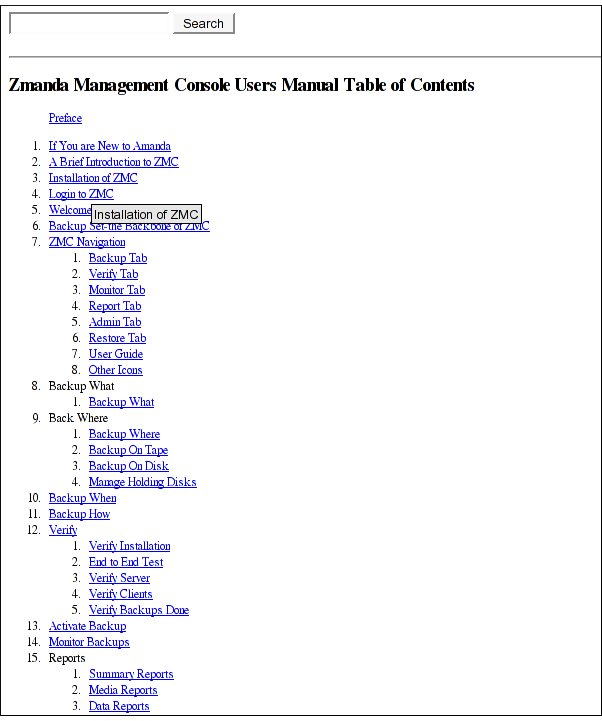 Note: Actual TOC may vary depending upon the version of ZMC.
Getting Support
When all else fails, ZMC provides a convenient e-mail support request that automatically attaches all the relevant files required to reproduce the problem. This system is explained here.
Context-Sensitive Help
Clicking the question mark icon

opens a page from the Guide relevant to the current page of the ZMC.
---