Summary Report
ZRM for MySQL automatically generates backup reports after the backup run is completed (or if it fails for some reason). This backup summary report includes:
status of the current/last backup run
the backup type (in other words, whether the backup was a quick (no-copy) snapshot backup.
backup statistics
location of the backup image
backup level.
If the machine where ZMC is running is configured to send mail, reports can be automatically e-mailed after every backup run.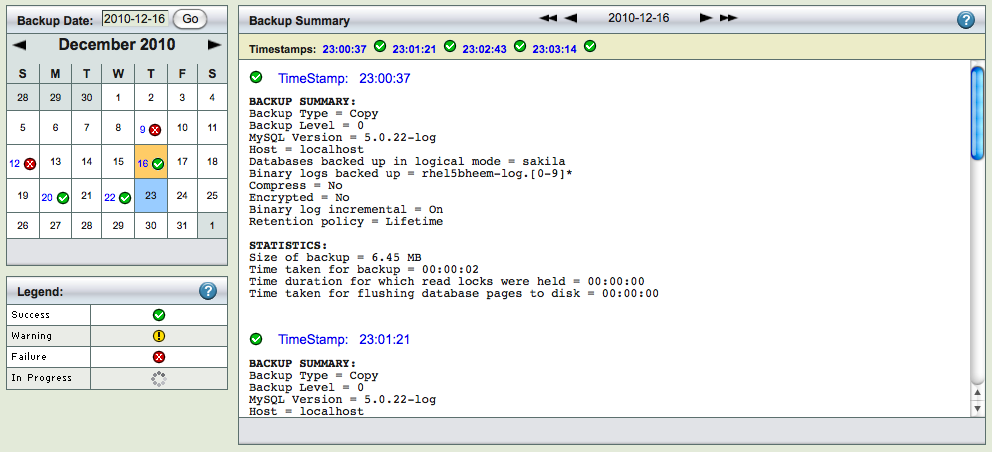 The Summary Report page is divided into two panels.
The left panel shows a calendar control from which you can select report dates, and a legend that explains the report icons.
The right panel displays the report for date selected on the calendar.
You can select reports using any of the following:
Browse buttons at the top of the report itself.
You can enter a date on the left panel and click the Go button.
You can pick a date off the calendar.
Selecting a backup date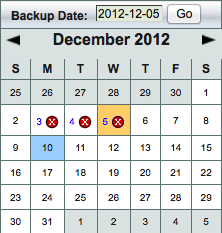 You can either enter the date (mm/dd/yy[yy]) and click Go, or click on any icon in the calendar. When you click Go (or click on a different date), the report shows any summary data (if any is available) for that date.
Legend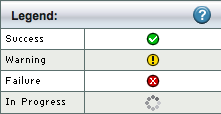 Legend shows four possible status for a backup run:
Error

Requires immediate attention

Warning

A recoverable failure

Success

Successful backup run, the data backed up can be recovered from this image

Progress

Backup run is in progress. Please check Monitor page for more information about this backup run
Summary Panel
The date browse buttons allow to conveniently move back and forth one day (using < or >) or one week (using << or>>) at a time.
Timestamp links below the browse buttons show the time at which the backup run was initiated. If there are multiple backups in a day, you will see multiple time stamps. Clicking on a Timestamp link go to the Restore What page with the date and time automatically filled in.
Backup Summary

The what, when, where and how of the backup run. Note that Backup Type indicates whether the backup is a standard backup copied to the ZRM server (Copy), a quick snapshot backup (No-copy), or a quick snapshot that has been converted to a standard backup (Copy (converted)).

Statistics

How much data was backed up and how long it took. Note that quick snapshot (No-copy) backups always display a backup size of zero, because no data transfer occurs when this type of backup is run.