ZMC Backup Where page
Once the backup source for a backup set has been defined on the Backup What page, a backup device must be selected on the Backup Where page. If no devices have been configured (as will be the case with a new installation), the ZMC will take you directly to the Admin Devices page to define one or more backup devices. If backup devices are defined, Backup Where allows user to define a backup device for the backup set. You will have to provide backup set specific information for each device depending on the type. Sections below provide more information on how to configure the device for the backup set.
The physical object that stores a backup is referred to in Amanda as a medium (plural backup media). Thus, Amanda organizes all backup data in the following heirarchy (note that slots only apply to a tape changer device):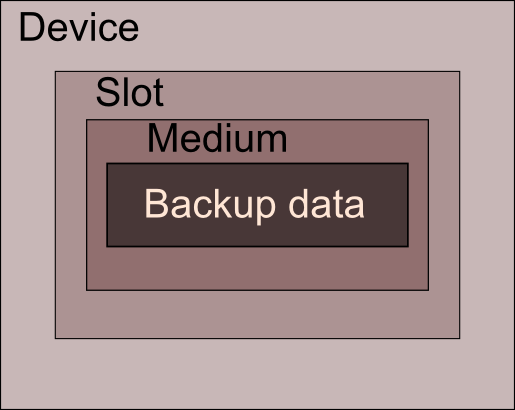 Regardless of the device type, the ZMC also allows you to define an optional write-cache mechanism called a staging area or holding disk, which stores the backup image on the server's hard disk. Because backups can be written in parallel to the holding disk, backups can be completed in much smaller windows than would be possible if writing directly to the device (even if the device is a virtual tape). The staging area can be configured in the Backup Staging page.
Note that while a backup set can include more than one host as a backup source, there can be only one target device per backup set. If you want to send backups from different host systems to different backup media, you must create multiple backup sets to do so. The Duplicate feature of the Admin Backup sets page is useful for this. Also, once a device has been associated to a backup set it cannot be changed (this would invalidate the restore catalog). To start sending backups from an existing backup set to a new device, duplicate the existing set and bind the resulting backup set to the new device. Note that Backup When settings will have to be manually set to match the old backup set; these settings are not duplicated.