ZMC Backup When Page
Unlike most other backup software, ZMC does not require users to lay down detailed rules as to when the backup should be performed. ZMC works through Amanda's backup scheduler which tries to maintain a consistent backup window across all backup runs by controlling the size of the backup image for each backup run.
Amanda also simplifies the configuration of the backup run schedule and specification of backup level. Instead of users pre-specifying either a Full Backup or an Incremental Backup in a particular schedule, ZMC has Full backup and 9 levels of Incremental Backup. However, ZMC does not require Administrators to specify the backup levels for each backup run. It calculates, using an internal algorithm, the levels of each DLE within the backup set for every run on a dynamic basis.
The Tapes In Rotation/Virtual Tapes in rotation option lets you define a backup retention policy how much media is available for rotation (see below) for a single backup cycle, and therefore indirectly set a retention policy. By putting more media in rotation, you are effectively setting a longer retention policy because if more media is available, completed backups will not get overwritten as quickly by subsequent backup runs.
Backup Set Schedule table
The table shows the list of backup sets and backup schedules. Overall view on the backup schedules help understand how the backup windows are overlapping and how many backups are running at any time.

The backup job for the backup set starts at the time Hours:Minute column and it is run based on schedule in When column. The When column shows two rows: The first row has the days of the week (Sun to Saturday). The second row shows the type of backup schedule is performed on each day.
The backup schedule can be Amanda (A), Full (F) and Incremental (I). Amanda backup schedule means Amanda decides backup level to use. Amanda tries to balance the amount of data backed up on each run and is the recommended schedule.
Changing Backup Set Schedule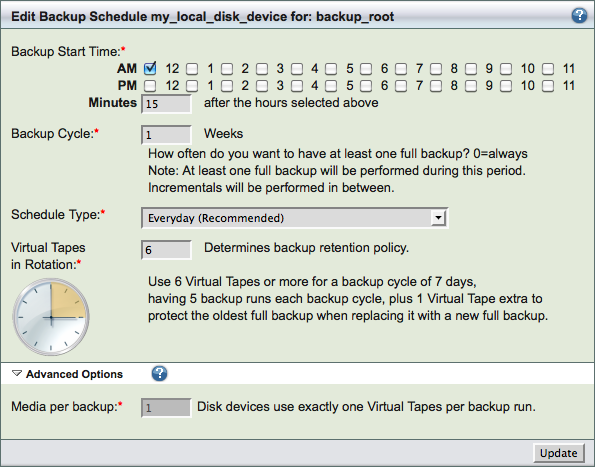 Backup Start Time
Specifies the time of day when the backup run starts. This time is the same for all days and for all the DLEs in the set.
Backup Cycle
The number of weeks within which at least one full backup for all DLEs must be performed.
Schedule Type
The Schedule Type can be Every Day, Every Weekday, Custom Weekday, Incremental Weekdays-Full Sunday, and Incremental Weekdays-Full Saturday. Amanda will schedule backup levels in Every Day and Every Weekday schedule on every day of the week and Monday-Friday respectively. You can see force specific backup levels using Increment Weekdays-Full Sunday and Incremental Weekdays-Full Saturday schedule.
Custom Weekday schedule is an advanced option. For each day of the week, you select from No Backup, Full (backup level 0), Incremental (backup level > 0) and Auto (Amanda decides backup level) as shown below.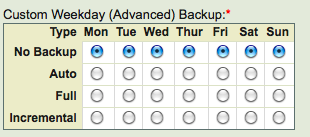 Custom Days of the Month (shown below) is another advanced option. For each day of the month, you can select Amanda schedule (auto), full backup or incremental (level > 0) or no backup. For days of the month that are not valid for the specific month (such 31st in Feb), the value is ignored.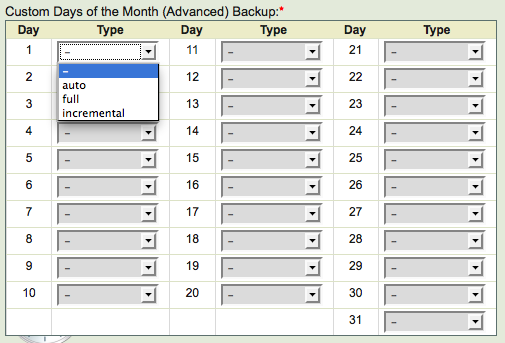 Virtual Tapes in Rotation/Tapes in Rotation

In Amanda, retention policy is set on media rather than on the age of backup data. Tapes/Virtual Tape in rotation defines when media volumes can be overwritten (in other words, how long media volumes are retained). It sets the "tapecycle" parameter defined in amanda.conf(5).
In case of Disk and Amazon S3 backups, media in rotation is equal to the number of slots in the device definition specified on the Backup Where page. This is the default value for these devices.
In case of Tape and Tape changers, the Media in rotation value should be less than the number of tapes available for the backup set. The minimum value for media in rotation is the number of scheduled backup runs per backup cycle (configured on the Backup When page using backup run scheduler and the Backup Cycle parameter) plus one and then all multiplied by the maximum number of media volumes used in a backup run (configured in the Advanced Options section of the Backup When - Tapes Per Backup).
For example: Backups are scheduled on week days (Mon-Fri), Backup cycle is 14 days, The number of backup runs in 14 days is 10 (10 weekdays in 14 days). The minimum value of media in rotation is (10 + 1) * 2 where 2 is the maximum number of tapes used in a backup run. Of course, the media in rotation can be higher than 22, but should be less than the total number of tapes available for the backup set. The additional tapes can be used for replacement in case of media failures.
To specify a longer retention policy for backups, use the Archive button in Backup Media page. Archived media is no longer used for backup runs and never overwritten (retained forever).
Virtual Tape/Backup or Tape/Backup

Specifies the maximum amount of media that Amanda will be allowed to consume in a single backup run. This value, coupled with Virtual Tapes/Tapes in Rotation above, effectively sets the data retention policy for the backups.
Scheduling Advanced Options
Amanda scheduling and retention policies are inter-twined with the number of media volumes required (i.e, number of tapes needed for the backup set or amount of disk space required for backups). The following picture shows the values for disk backups.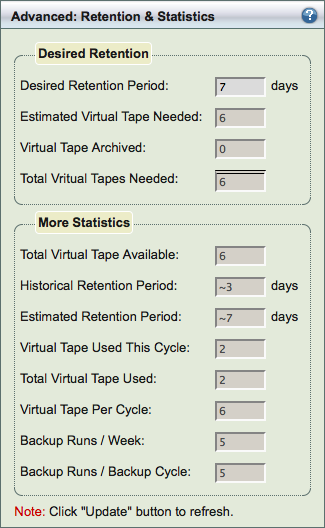 You can enter the Desired Retention Period in days and click Update to obtain various values. It provides an estimate of number of virtual tapes. It also provides the number of virtual tapes archived so far and total number of virtual tapes for the backup set on the Amanda server.
It also provide comparison with current number of Virtual tapes and current backup schedule.
The information provided in this pane is advisory and is not used by Amanda. It can be used to fill in values for Tape/Virtual Tape in rotation, backup schedule and backup cycle in the Backup When page.