Destination Host
The Destination Host is the host where you want to store the restored data.

It can be the same host as from which the data had been backed up.

If Destination Host is left blank, then ZMC assumes the default value "Amanda server" i.e. the host on which ZMC is installed.
The Destination Host should have ssh running on it and grant ssh access to the appropriate user (as explained in Destination Host Type below).
WARNING:
If users does not have ssh permission between the server and client where restore is to be done, the user will get an error message as the following

ssh connection to mymachine.company.com refused

Please modify ssh configuration to give proper access rights to users.
Destination Host Type
The drop down box allows users to chose between 'Linux/Unix' or 'Windows' types .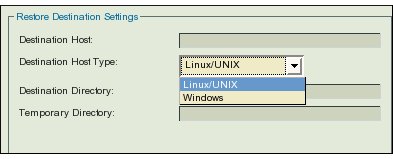 If the Destination Host is running Linux , then the data will be restored as user root.
If the Destination Host is running Windows , then the data will be restored as user amandaroot and not amandabackup.
The Message box at No 3 above pre-displays a message about using different users as ssh rights will be with those users.
Warning:
When the host directory is Linux based and the Destination Directory in Windows based,
then the Run Restore action will look as if it has apparently failed.
Users will get a warning message on the GUI:

"WARNING: Permissions will not be preserved on the destination. Restore will appear to have failed"

But in fact the Run Restore action would have extracted the relevant files to the 
specified Windows directory.