Status of Verify
The right hand panel labeled No. 3 in Fig. 2 above displays the status of the verification process.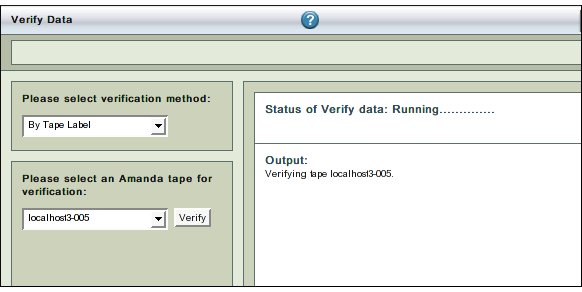 The text in Upper Right Hand Rectangle (No 3) will change to indicate that the Data Verification process has started.
Further progress messages/ error messages will appear there.
Once the process is successfully completed, the status changes to success as shown in Fig.2
TIP:
In verify by Date, all the Tapes of the  Backup Set of the selected date get verified.
In verify by Tape label, only a particular tape will get verified.
If the Backup Image exceeds one tape, users  may want to verify all of them (optional).
Tape(s) should be in the tape device before the verification can happen.

Even if there is no tape device attached, or the Tape has not been inserted at all, ZMC will wait for the time outs to be over before reporting the failure.