Report Tab
Click on the Report tab display reports on completed backup sets. Although reports are mailed to the user when the backup is executed, the Reports page allows you to browse reports from any previous month in which backup sets were run. The Report tab opens on the Summary report.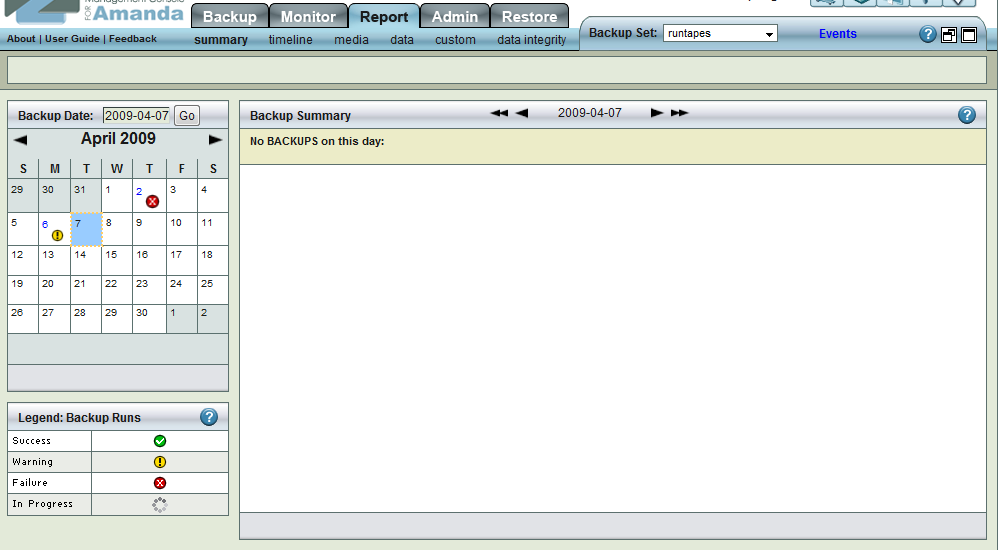 Report Sub-Tasks
There are six reports available:

The Summary page shows whether the Backup was error free, had warnings or had errors. It also shows whether there was a single error, or multiple errors.
The Report timeline allow users to see how old backup runs had progressed.
The Media report shows what Media was used and whether it was full or partial.
The Data report shows a summary of backup in the form of a list of clients and their directories that were backed up.
For each Disk List Entry (Host/Directory combination specified in Backup What page), it shows whether the backup was full or incremental and whether it was error free, with warnings or was with errors.
The Custom Reports page allows user to create custom Amanda reports and save the report query for future use.
Data Integrity of a backup image can be verified by either media label or by date.
Calender Control
The Calender Control in the left panel controls the data displayed by any of the first four reports.